10 Apr

Introduction of LED display

Introduction of LED display

LED is the abbreviation of Light Emitting Diode light-emitting diode. LED display is composed by light-emitting diodes arranged in a display. It uses low-voltage scan driver has the following advantages:

1, low power consumption

2, long life

3, low cost

4, high brightness

5, large viewing angle

6, visual distance

7 specifications varieties

LED display market in recent years has been rapid development, has been widely applied to the banking, telecommunications, taxation, airports, railway stations, securities markets and other trading markets, hospitals, electricity, customs, stadiums and other needs to make an announcement, publicity occasions .

LED display as an important means of dissemination of information, has become a sign of the modernization of the city information. With the continuous advancement of the socio-economic, as well as LED display technology continues to improve, the LED display will be more and more in-depth, and their applications will be more and more widely.
ATTRACT CUSTOMERS AND INCREASE SALES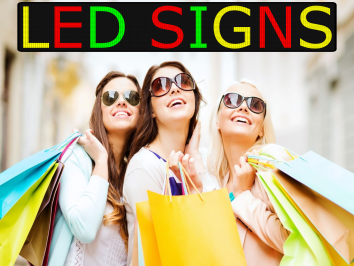 Thousands of people will see your location for the first time when you put up a TV Liquidator LED Sign. They are a very powerful marketing tool for every type of business. Their colorful moving messages and images increase customer awareness 24 hours a day. LED (Light Emitting Diode) sign owners see sales gain much more than when advertising with newspaper ads, direct mail, banners or other conventional advertising mediums. People today are attracted to a store that has digital signage. If 30 cars drive on your street per minute, that's 40,000 cars a day driving by your location. It would only take a small fraction of those potential customers to significantly improve your sales volume. This is why the small business administration says that when businesses switch over to electronic message center signs, they can see upwards of a 150% increase in revenue. Our LED signs are helping many thousands of organizations and businesses.